Authentic Polish Kielbasa & Sauerkraut
Ingredients:
Kielbasa
Sauerkraut
Quinoa
Chicken Broth
1/2 Onion
Butter
Dry Wine
Mustard
Instructions:
Prepare enough chicken broth to cook both the quinoa and the kielbasa & sauerkraut separately.
Cook the quinoa in the manner of a risotto, sautéing 1/2 onion in butter, add the quinoa, stir, add a little dry white wine and some caraway;
Then after the wine evaporates, add chicken broth and a pinch of Himalayan salt, and simmer covered for about 12 minutes until the broth is absorbed.
Then stir in some butter and white wine vinegar, cover and let stand for five minutes.
The sauerkraut is first drained and then added to a pot containing hot chicken broth and kielbasa.
Simmer for 12 minutes and then remove the kielbasa to the plate, drain the sauerkraut and serve immediately with the quinoa and sausage.
The choice of mustard is strictly ad libitum.
I like German Dusseldorfer Senf, or French's Yellow Mustard.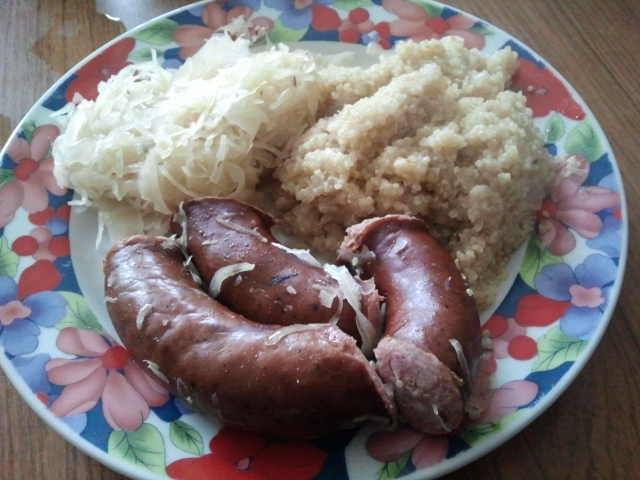 Recipe Submitted by Paul