Crack Bread
It's not nearly as bad as it sounds, it's worse. If you love bacon please read on for the best "worse for you recipe". I suggest not eating it every week as your cholesterol would shoot through the roof.
Here's what you'll need, you have my permission to drool at any time, just not on the keyboard.
 Ingredients: 
1 loaf round artisan bread – my personal favorite is seedless rye
1 packet of Hidden Valley Ranch Powder
1 pack of bacon – please don't use turkey bacon, you'll need the drippings later
1 block of the sharpest cheddar that you like – I'm in NY so I like it über sharp
When you buy your bread, make sure that it's a little on the firm side, it's hard to cut the checkerboard pattern into your bread.
 Instructions: 
1. Cut your bread horizontally in one inch strips
2. Cut your bread vertically in one inch strips
3. Cook your bacon nice and crispy
4. Cut your cheese (no fart jokes please) into 1/4 inch chunks
5. Crumble your bacon into nummy nummy crumbles and stuff in the cracks of your bread
6. Cram the cheese chunks into the bread crannies
7. Carefully mix the bacon drippings and ranch dressing together and drizzle all over the bread
8. Cradle the bread in between two sheets of foil to cover, bake at 400 degrees for 15 min
9. Carefully remove the bread from oven and uncover
10. Cart it back to the oven for 10 more minutes uncovered.
11. Count the seconds before you won't burn your mouth off and grab a piece and then enjoy.
AJ's Tip for no fuss no mess bacon: Cook bacon in oven on a cookie sheet at 400 degrees for about 15 minutes or until crispy. No splattering of grease all over your clothing, popping on your skin. OUCH! No mess in your stove, it's a good thing.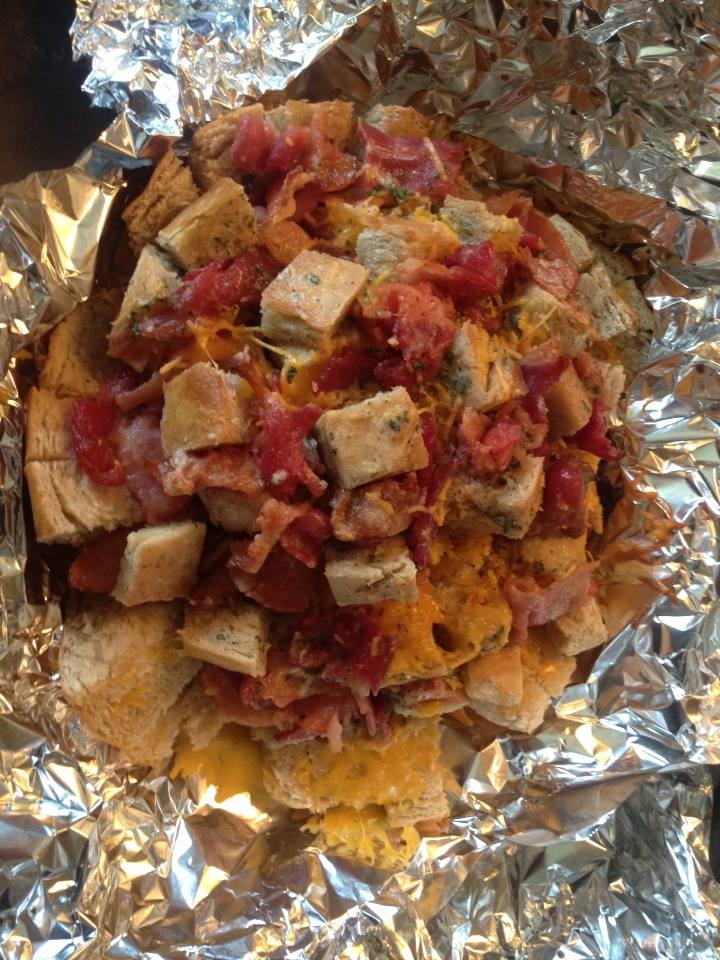 Recipe Submitted By AJ